Dumpster Rental Navarre FL
Choose the #1 dumpster rental Navarre has to offer from TFC Hauling & Dumpster Rental! We are a locally-owned and operated waste disposal company that guarantees friendly, experienced, and competitively-priced waste management solutions for all of your residential or commercial needs. We're licensed, insured, and committed to providing Navarre residents and businesses with dependable, on-time dumpsters. Let us handle the heavy lifting and manage the mess so you can focus on the task at hand.

We're proud to provide service to Navarre, Florida, and neighboring areas in Escambia County. We have provided roll-off containers to countless clients over the years for all types of projects, including foreclosures, housing developments, home improvement projects, yard maintenance, and garage cleanouts, among other objectives. Whatever your needs are for a reliable and reasonably-priced rental, we're here to help by providing the best dumpster rental Navarre can depend on.

Don't stress about making multiple trips to and from landfills to dispose of accumulated waste. The team at TFC Hauling & Dumpster Rental is glad to help take the hassle out of the waste removal process with our dependable dumpster rental Navarre businesses and residents trust to help complete a broad scope of projects. Contact us via text or phone call at (850) 426-3333 or book a dumpster online today.
Use the Dumpster Rental Navarre FL Contractors and Residents Trust for All Projects
You can now book a dependable dumpster rental Navarre FL homeowners and contractors trust to help them complete a range of projects by using our convenient online system. We offer dumpsters for one-time projects as well as reliable permanent dumpsters tailored to your business's waste disposal needs. We are committed to supplying the best trash dumpster rental Navarre FL has to offer and ensuring on-time dumpster delivery for the convenience of our customers.

Navarre contractors and homeowners depend on TFC Hauling & Dumpster Rental when they need to remove waste following small and large projects. Over the years, we've built a reputation as the go-to source for dumpster rental Navarre FL trusts for quick and affordable dumpsters. Our exceptional customer service and consistently reliable dumpster service have set our business apart throughout Escambia County and we're eager to exceed your expectations by showcasing our dependability and knowledge with your upcoming waste disposal project.

As a locally-owned company, we care about making sure that everyone in our community can access a dumpster rental Navarre FL residents choose at the best price. We are committed to ensuring that waste disposal is done in an environmentally-conscious manner, within city, county, and state guidelines. We have partnered with the Perdido Landfill to keep our communities free of garbage through sustainable waste disposal practices. If you're shopping for an affordable dumpster rental Navarre FL businesses, contractors, and homeowners choose for all their waste management projects, don't hesitate to get in touch with the TFC Hauling & Dumpster Rental team at (850) 426-3333 or book online now!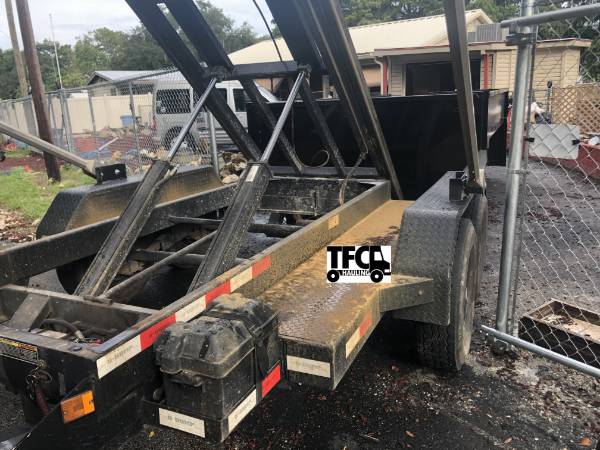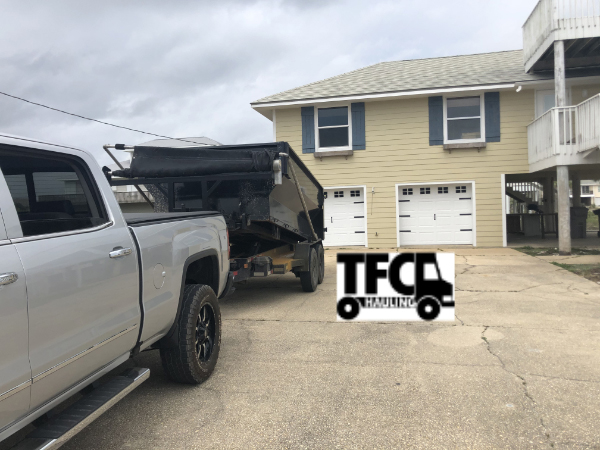 Reliable Residential Dumpsters Navarre Homeowners Can Depend On
Reserve the dumpsters Navarre homeowners use for all types of residential projects and clear the clutter with a our streamlined and simple process. Our dumpsters can handle waste from a range of projects, such as furniture disposal, outdoor shed demolition, garage cleanouts, and kitchen or bathroom remodels. We have the ideal dumpster selections to make your waste removal a breeze, whether you have a short-term or long-term project.

Choose from our three dumpster selections when you need reliable waste disposal for any home improvement, repair, remodeling, or cleanout project. We are proud to provide homeowners with roll-off bins they can rely on for smaller DIY projects, large housing additions, and everything in between. We have the perfect dumpster for every project so give us a call or book online today!

Construction Dumpster Rental Navarre Florida Contractors Use Year-Round
Trust TFC Hauling & Dumpster Rental if you're looking for the dumpster rental Navarre Florida contractors use year-round to manage tons of debris following a range of construction projects. From large-scale renovations to new building construction projects and demolition tear-downs, our dumpsters are designed for heavy-duty waste containment for every scale and scope of construction projects. With our dependable dumpster delivery and pick-up service, bulky and unwanted waste won't derail your project.

We provide the large dumpster rental Navarre FL contractors use for most projects. Whether you're overseeing a one-time demolition or you have ongoing construction work to manage, you can rely on our construction dumpsters for efficient waste disposal. Call us or book a construction dumpster rental Navarre FL contractors can depend on online today.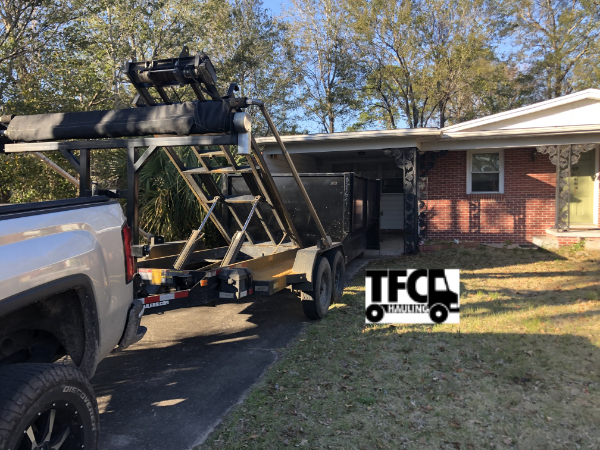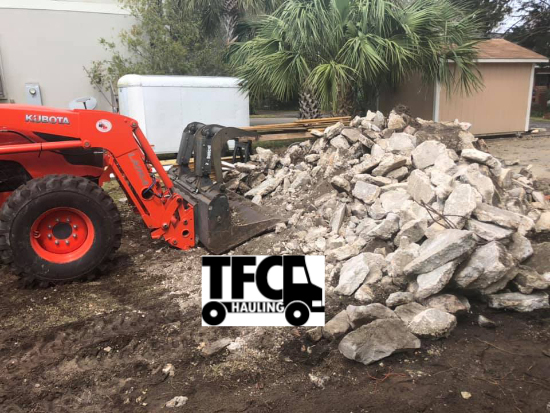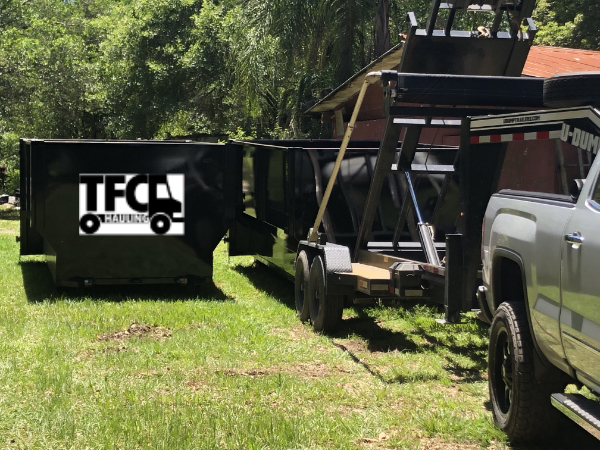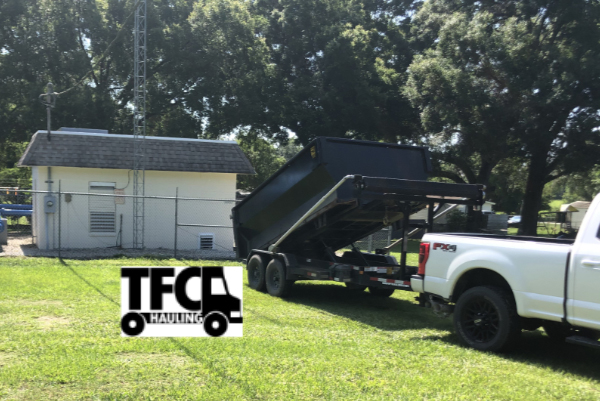 Roll Off Dumpster Rental Navarre FL Roofers Can Count On
You can trust TFC Hauling & Dumpster Rental to supply the roll off dumpster rental Navarre FL roofers depend on for new roof installations, roof replacements, and repairs. Our dumpsters are durable and available in three versatile sizes. We're confident that you'll benefit from adding one of our roll-off containers to your work site.

Our durable dumpster selections can accommodate all types of roofing debris. We frequently help roofers dispose of tiles, wood, nails, trimmings, underlay, shingles, and lumber following roofing projects. When you have a roofing dumpster you can rely on to help you get rid of potentially hazardous waste and debris, you can focus on getting the project done without having to worry about any potential safety issues.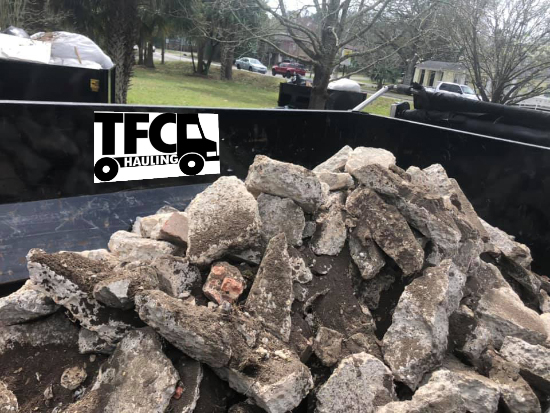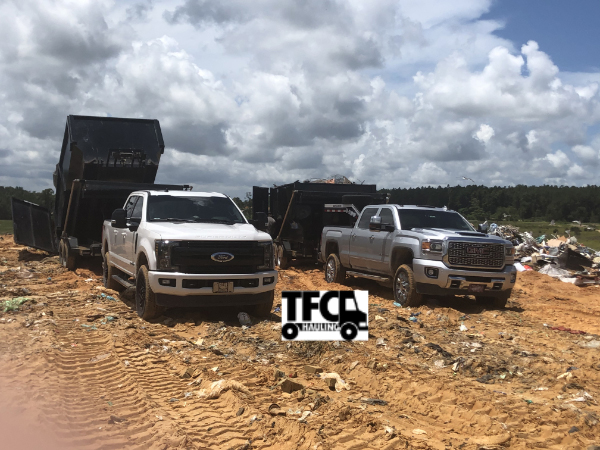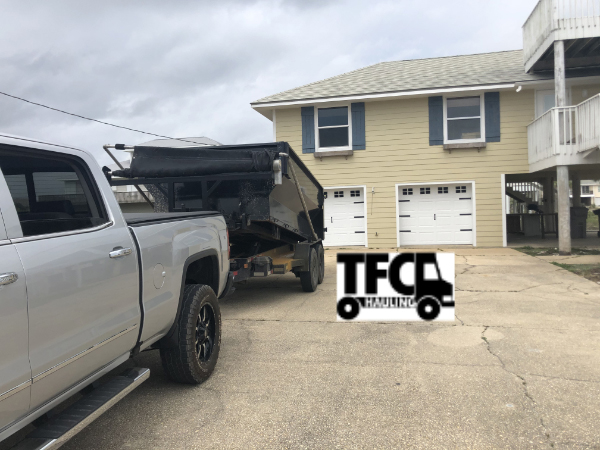 Commercial Dumpster Navarre FL Business Owners Rely On to Manage the Waste
We're proud to be the go-to waste management company for the best commercial dumpster Navarre FL local businesses use to manage waste in a timely and affordable manner. We have no doubt that we can provide you with reliable waste management solutions, whether you need a temporary dumpster for your business or an ongoing project. Our clientele includes restaurants, banks, retirement facilities, apartment complexes, and many other commercial ventures.

We have partnered with company owners, local entrepreneurs, and property managers to supply them with the dumpster Navarre FL businesses depend on for all their waste management. Our roll-off dumpsters are ideal for a range of commercial projects including foreclosure cleanouts, storage unit cleanouts, business location renovation, general maintenance, and repairs. You can use our convenient online booking or contact the TFC Hauling & Dumpster Rental team at (850) 426-3333 to reserve a commercial dumpster today.

How to Book a Navarre Dumpster Rental Online in Minutes
At TFC Hauling, booking a Navarre dumpster rental online is as easy as just a few simple clicks. Our dumpster rental process is convenient, and our friendly and experienced staff are always available to guide you if you need any assistance. You can choose to book online or call us at (850) 426-3333 to schedule a delivery for a residential or commercial dumpster today.

When you're ready to book your Navarre dumpster rental online, follow the few steps below to make a reservation:

1) Click the "Book Online Now" button in red from any page on our website or click on the "Dumpsters" tab on the main menu to get started.

2) View our dumpster selections (12 yard, 16 yard, and 20 yard), check the sizing and pricing details for each dumpster, and click the "Add to Cart" tab below the dumpster size you need to proceed.

3) Once you have chosen the dumpster size, indicate whether you are renting as a contractor or homeowner

4) Confirm the dumpster rental details (price, size, rental duration) and choose the delivery and pick-up dates by clicking the "Choose Date" button.

5) Fill out the form with the required delivery, billing, and contact information, then click the "Continue" tab to proceed.

6) Submit the payment details, sign the digital contract, and submit payment using any major credit card with our secure system.

It is that simple to book a roll off dumpster, Navarre FL trusts on your tablet, phone, or computer at your convenience. Once you provide the payment details and check out, you will receive a confirmation email with a digital copy of your receipt and contract. We'll contact you on the phone leading up to the delivery date to confirm the most convenient delivery window for you.

If you have any questions about booking a Navarre dumpster rental from TFC Hauling, don't hesitate to text or call us at (850) 426-3333. We're certain that our years of experience in waste management make us the best team to handle your waste removal efficiently.

We Take Just About Everything
Some examples of the junk we haul away include
Refrigerator Disposal

Garbage Removal

Mattress Disposal

Foreclosure Clean Outs
Construction Waste Removal

Yard Waste Removal

Trash Removal

Appliance Removal
Television Disposal & Recycling

Furniture Removal

E-Waste Disposal

Hot Tub Disposal
Sizes and Prices for the Best Dumpster-Rental-Navarre-FL
At TFC Hauling & Dumpster Rental, you will find versatile dumpster sizes and the best prices for a dumpster-rental-Navarre-FL. Homeowners, contractors, and other commercial clients choose our dumpster selections for a wide range of projects. Whether you're managing a new roof installation, a construction site clean-up, a basement cleanout, or a landscaping project, we're confident that you'll find the perfect dumpster on our website.

12 Yard: The 12-yard dumpster is the small dumpster rental Navarre FL homeowners use for small projects ranging from yard waste removal to small home renovation clean-ups. This dumpster measures 8'W x 12'L x 4'H in size. The 12-yard 7day rental is available at $300 with one ton of waste disposal included in the base price.

16 Yard: You can reserve the 16-yard dumpster rental at $350 for up to 7 days with 1.5 tons of weight disposal included. This dumpster measures 8'W x 12'L x 5'H and is the best dumpster for small to medium projects such as furniture removal, foreclosure cleanouts, garage cleanouts, demolition clean-up, and more.

20 Yard: The 20-yard dumpster measures 8'W x 12'L x 6'H in size and is the dumpster-rental-Navarre-FL contractors use for large projects. It's the best choice for anyone searching for a republic dumpster Navarre FL depends on year-round. A 20-yard 7-day rental is available at $400 with two tons of weight disposal included.

Our waste management dumpster sizes Navarre FL meet all our customers' requirements for waste removal. Rental time extensions and extra weight can be purchased at $25 per additional day and $65 per additional ton of weight. Reach out to TFC Hauling & Dumpster Rental at (850) 426-3333 to learn more if you have any questions about our dumpster options or the price of dumpster rental Navarre FL.

FAQs About Reserving a Dumpster Rental in Navarre FL
If you have questions about booking a dumpster rental in Navarre FL, we have answers. We've received many questions over the years about our dumpster options, pricing, and policies, so we've compiled a few frequently asked questions to give you a better picture of the dumpster rental process at TFC Hauling & Dumpster Rental. We know that you might have some further questions, so don't hesitate to contact us if you need more clarification about our Navarre, FL, roll off dumpster services.

1) How should I load the dumpster?

Make sure that you do not overload the Navarre FL dumpster rental with waste hanging over the sides or spilling over the top of the dumpster. Our drivers will not be able to haul overloaded dumpsters, so this could delay the pick-up process. Make sure all of the waste fits inside the container without any spillage or overflow.

2) What all can be loaded into the containers?

Our heavy-duty bins are capable of hauling away a wide range of waste including construction debris, yard waste, furniture, and general garbage. If you've been wondering can you throw TV in dumpster Navarre FL, unfortunately, televisions require special disposal. According to city and state regulations, TV sets and other electronics can contain toxic substances and cannot be thrown in the dump. Other potentially hazardous wastes we do not allow in our roll-off dumpsters include freon, medical wastes, paint, gasoline, fertilizer, and chemicals. Contact a team member at (850) 426-3333 to learn more about prohibited waste.

3) Which size dumpster is ideal for my project?

Use our dumpster sizing information to choose the ideal contractor or residential dumpster rental Navarre FL prefers for your next project. We offer three convenient options including our 12, 16, or 20-yard roll-off bins to help suit any sized project. Our team will be happy to guide you through your options and provide input on which size is best for your waste disposal goals, so just give us a call if you need some help selecting a dumpster rental in Navarre FL.

4) How much does it cost to rent a roll-off container?

Our prices vary depending on the size of the container, rental period, and amount of waste being hauled away. Our 12-yard begins at $300 for up to seven days of rental time. We understand people might be searching for a cheap dumpster rental Navarre FL can count on, but along with cost-effective solutions, we prioritize friendly service and heavy-duty selections that benefit both residential and commercial project goals.
Delivering the #1 Roll Off Dumpster Navarre FL Has to Offer to Surrounding Areas
We take great pride in delivering the #1 roll off dumpster Navarre FL has to offer to homeowners and contractors in Santa Rosa County including the 32566 zip code. Our service radius also covers the cities of Pensacola, Cantonment, Gulf Breeze, Milton, and Pace. Don't hesitate to reach out to us if you don't see your zip code or city listed. We can typically arrange a budget dumpster rental Navarre FL trusts near you.

Our team is dedicated to supplying the best roll off dumpster Navarre FL residents trust to homeowners, local businesses, organizations, landscapers, construction firms, and the Santa Rosa County District Schools to help keep our community free of waste. We have achieved a reputation as a professional waste disposal company that prioritizes flexible scheduling, reliable dumpster rental service, and excellent customer support. Rent a dumpster Navarre FL contractors and homeowners trust online or contact us at (850) 426-3333 to schedule a delivery today.
Positive Reviews for the Dumpsters Navarre FL Customers Give 5-Stars
We strive to provide the dumpsters Navarre FL can trust and build long-lasting relationships within our community. We're thrilled to have earned the repeat business of our wonderful clients by providing exceptional service and the best dumpster rental prices Navarre FL has to offer. You can count on our friendly and dependable team for all your waste management needs.

Our durable roll-off container selections can handle large and small projects alike, whether you're managing a foreclosure, removing unwanted furniture, or managing construction debris on a development site. Check out a selection of our 5-star ratings below and book the dumpster service Navarre FL trusts on our website in minutes.

Dumpster Rental Navarre FL
As homes age, work is needed to keep them in good shape and to help keep up with changing trends or changes in preferences. When you need to do work on the home, you will create a lot of trash. Whether you're working with pros or trying to DIY the work, it's important to have somewhere to put all of the trash. Looking into a Dumpster rental near me is always a great idea, and TFC Hauling and Dumpster Rental is ready to help.
Select a Dumpster Size | Dumpster Company Navarre FL
Our company offers a variety of sizes to make sure there's the right one for any project.
· 12 yard dumpster
· 16 yard dumpster
· 20 yard dumpster
· 25 yard dumpster
When you are looking at renting a dumpster in Navarre FL, think about how much will need to go in it and how much space you have for it. It is often better to go a little bigger if you can in case you underestimate the amount of trash created.
If you have a small space, though, when you rent a residential dumpster or commercial dumpster, you can have it emptied and returned to collect all of the trash from the project. We can help you choose the right Size Dumpster to meet your needs.
Local Dumpster Rental Services Navarre FL Have the Dumpster Dropped Off
On the date you choose, we'll drop off the dumpster, and you'll be ready to start filling it up. Almost anything other than hazardous materials can go in the dumpster, so any trash from the project can be tossed in as you work. Our dumpster company Navarre can answer any questions you may have about what to put in the dumpster. Use care when filling the dumpster to prevent gaps between materials or injuries by those working in the home.
Finishing Up With the Dumpster |What to Do after your Dumpster Delivery
The dumpster may fill up quickly, depending on your project. Once you're done filling it, we can come and pick it up. We'll handle the trash disposal from there.
If the dumpster is full, but you aren't done using it, we can empty it and return it to your property. Our Dumpster company makes it as easy as possible for you to contain and remove any trash created while working on the project.
Roofing Work & Dumpster Rental Size Selection
A Dumpster rental Navarre is perfect for any roofing project. If you're tearing out an old roof and installing a new one, you'll need plenty of space for the old materials. If you're fixing the roof, you'll need somewhere to get rid of the damaged materials that have to be removed.
You'll also have trash from the new tiles or shingles that you'll need to deal with, and renting a dumpster makes that easy for you. Use our Local dumpster service to make sure the dumpster is ready when you want to start the roof repairs or replacement.
Construction Projects | ROll Off Dumpster Rental Navarre Florida
Construction projects around the house can include additions, new sheds, expanding the garage, or a variety of other tasks that can improve the function and beauty of your home. We know how important it is to keep the area clean and organized during construction to prevent mistakes or injuries. With a dumpster rental Santa Rosa County, you have an easy way to contain all of the trash while you work on the project and have it removed for you when everything is done.
Home Renovations | Rental Periods
If it's time for an upgrade, a home renovation is the perfect option. Whether you're removing the kitchen cabinets and replacing them, getting rid of old furniture and repainting a room, or doing any other renovations in your home, you'll need a way to handle the trash. Working with our Local Dumpster Service makes it easier for you to handle the waste, so you can focus on the projects and improvements to your home.
Over time, your home will need work done to keep it in great shape and to make sure it meets your needs. When you start planning a project, don't forget to work with our Local dumpster company so you have somewhere to toss all of the trash. Call TFC Hauling and Dumpster Rental today to learn more
Other Services Locations
Roll Off Dumpster Rental Santa Rosa County FL
Local Dumpster Rental PensacolaFL
Dumpster Rental Services Pace FL
Local Dumpster Services Rental Century FL